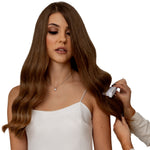 10 Top Tips for Clip-In Hair Extensions
Clip In Hair Extensions have come along way in the past few years and have developed into natural looking, lightweight, and durable pieces for those who are looking to transform their hair in minutes!  The best bit? They are commitment free and can be applied easily yourself from home.
Here are our top 10 tips for applying and keeping those extensions looking the best they can!
Colour Match
The key for a seamless blend for clip in hair extensions is all about the colour match.  This is an absolute deal breaker! The perfect colour match equals an InvisiBelle look in the hair!
Placement
When clipping in your hair extensions, always use the longer clip in pieces at the back of the head and use the smaller pieces on the sides to achieve fullness where the hair is naturally finest or broken. Avoid placing the clip ins too close to the sides or crown of your hair as this will mean they are harder to hide.
Application
To secure the clip in extensions in your hair, gently backcomb at the root to create grip for the extensions to clip into.  Always use a flexible backcomb brush, so as not to damage the hair.
Hiding Sections
A great tip for those who have a blunt cut in their hair is to section off the underside of the hair and create a low plait or bun in this section as it can be hard to blend this finish on the hair and tends to stick out, then secure your bottom hair extension piece to this to create a seamless blend!
Washing
As you shouldn't wear your clip ins daily or sleep in them, then you shouldn't need to wash them very regularly. When the time comes, always use salon quality shampoo and conditioners to get the longevity out of the hair.
Brushing
To keep your extensions knot free, always use a specially designed hair extensions brush which will be gentle on the hair and avoids breakage.  Before washing, drying, or using heated styling tools always make sure your extensions are knot free!
Heat Styling
Clip in hair extensions always look better once styled into your own hair, a curl or wave gives a more seamless blend then leaving them straight. Remember to use a heat protectant first!
Products
Treat your clip ins like your normal hair to get them to look their best! Use salon quality shampoos and conditioners, a heat protective and an oil or serum on them regularly to keep them soft and moisturised.
Drying
Never let your extensions air dry, always blow-dry them to give them a sleek and professional look.  A round barrel brush is perfect for this!
Storage
When you are not wearing your clip in hair extensions, brush them, pop some oil or serum in them and keep them safe in a silk bag to avoid any damage