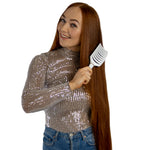 7 Tips on How to Combat Frizzy Hair
Wash Wisely
Choose the right product for your hair. Stay away from volume shampoos which can dry out your hair and opt for something smoothing and nourishing as the biggest cause of frizz is dehydration.
Condition, Condition, Condition
Conditioner is a moisturizer for your hair which helps to lock out humidity, reduce frizz, and make your hair shiny.
Use Your Products Strategically
Styling products should be applied to damp hair to allow better absorption and so, coats the hair strands helping to retain moisture and prevent frizz before the hair starts to dry.
It's All About the Blow-dry
 round blow-dry brush allows you to get better tension when drying the hair as the hot air will seal and close the cuticle leaving a smooth result.  The better the blow-dry the longer it will last.
Straighten Your Hair Smarter, Not Harder
there is never a need to restraighten your hair numerous times. Section your hair and straighten each section slowly while using a brush or comb as a guide to give best results.
Invest In a Silk Pillowcase
compared to traditional fabrics such as cotton, silk acts as a natural moisturiser, eradicating frizz. Less friction + more moisture = less breakage + smoother, sleeker hair
Moisture Is Your Friend
frizzy hair tends to dry out quickly so always have an oil or serum to hand to apply throughout the day to your mid lengths and ends, adding an extra layer of much needed hydration.