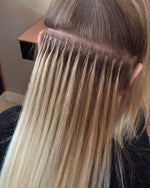 Microbead Hair Extensions
Microbead Hair Extensions -What are they?
Hair extensions, also known as hair integrations are added to your own hair to create volume or length.  Microbead hair extensions are our preferred method. From our own experience, they do not damage your own natural hair.  They are small wefts of hair attached to a section of your own hair near the root with a bead.  The most important thing when considering hair extensions is the quality of the hair.  No matter how amazing the application of the extensions are, if the quality of the hair is poor they will not last well and their general appearance will look false.
Our own brand of Belle Hair semi-permanent hair extensions is double drawn, 22inch I-tip cuticle intact hair.  It is tipped with flexible Italian keratin adhesive.  It is long lasting, non-shedding, durable and consistent.  We also have our brand of Belle Beads which are lined with silicone. They give a cushion between the natural hair and extensions thus preventing less damage.
Sometimes people have a bad perception of hair extensions and think that they will damage your own natural hair, but if the correct application and aftercare is taken then this will not happen.  The aftercare for extensions can seem overwhelming but it is not rocket science!  Matting is everyone's biggest fear but the ONLY way this could happen is not running your hands through the beads and its as simple as that.  If the extensions are looked after correctly they could have a lifespan of up to 9 months.  Product wise, we recommend salon quality sulphate free shampoo and conditioners, but sometimes this is not in everyone's budget so ask your stylist for a cheaper alternative and they will be happy to recommend.  Oils are key to keeping the extensions and your own hair looking healthy and full of moisture.  Don't fear oil. Use a dry oil that can be applied daily and run it through the mid length and ends of the hair.  Like your own hair any extra treatments such as olaplex, masks and heat protective spray can all be used on extensions.  If you have gone for an extra long look with the extensions, plait your hair before bed to prevent any knotting in the hair when your tossing and turning in your sleep.
Want a pop of colour or a balayage look without wanting to damage your own hair?  Extensions can be added to create either a subtle highlighted look or a soft balayage.  If your feeling brave, extensions can be custom coloured to create your dream look!  Don't forget, if you are going for a custom colour you may need extra maintenance with keeping the colour in the extensions.  This can be done with colour bombs, toners or purple shampoo.  As the extensions have already been heavily processed, you can only dye them darker, you cannot lighten or bleach them.
Would you like extra volume but not extra length? Would you like to fill out the ends of your own hair? Does it drive you crazy when your hair doesn't hold a curl?  A volume booster is the answer to all your problems.  A volume booster is two packs of hair added and cut to the length of your own natural hair to create a full and volumous look.  This is an extremely popular service as it is very low maintance and gives a natural healthy look.  If your hair doesn't hold a curl, having extensions in will help the hair have a grip when styling it.
A half head of extensions is similar to the volume booster but is three packs of hair.  This service can give you the small bit of length as well as achieving the full look.
The three-quarter head is four packs of hair added to give a long look while keeping the thickness at the ends of the hair.
The full head is five packs of hair applied for a super glam look.  This is advised for people with thicker hair to blend in with their ends naturally, while still giving them lots of length.
A note to remember when booking your extensions in is that if you have naturally very thick hair and are wanting to achieve length you will definitely need a three quarter or full head.  The more hair you have yourself, the more packs of extensions you will need to create a natural blend.  Also, a blunt cut on thick hair is unfortunately the worst style to have your hair in for extensions as it is very hard to blend when the ends of your own hair are so full.  It is not impossible to blend, but just be aware you could be looking at six or seven packs to get the extra length you desire!
The best part of microbead hair extensions are that they are reusable, so you are getting more bang for your buck compared to other hair extension methods! Once you have your extensions applied, we recommend coming back to us on the approximately three-month mark for a reapplication.  A reapplication involves removing all your extensions, brushing out your build up and then reapplying the extensions.  What is build up?  We naturally lose between 100-120 strands of our own hair on a daily basis but once there is a bead there, it catches all this hair.  It can also contain product build up if it has not been rinsed out properly.  It feels like a small bulb in the hair, but nothing to be worried about as it brushes out easily.  A reapplication is less then half the price of your initial application of extensions as you are re-using the same hair.