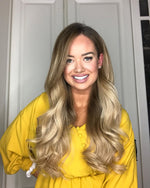 How To Style Hair Extensions
Styling hair extensions is similar to styling your own natural hair. The main difference would be you should not blow-dry your hair extensions with your head flipped upside down, as this will cause too much tension at the root of your hair where the I-tip has been applied. Section your hair to blow-dry it as this will speed up the drying process.  Use your heated styling tools at a maximum temperature of 190 degrees as anything above this will cause your hair to become damaged, dry and give that fly away look.  You can use any type of tools on your extensions such as straighteners, wands and crimpers.  Here in the salon we absolutely love the Remington Shine Therapy Straightener as you can control the temperature and it glides through the hair without pulling or snagging it.
We may be biased, but the Belle Brush is our favourite brush on the market for those with or without hair extensions.  It is designed with large vents at the back to allow air flow when using to blow-dry and its soft nylon bristles glide through the hair detangling any knots.  Eimear and Nancy initially designed this product purely for hair extensions as they felt there wasn't another hair brush on the market that was suitable for this and ticked all the boxes they were looking for.  Now the brush has totally expanded its target market and is loved not only by extension lovers to really get in there between the beads where other more traditional brushes weren't fitting the brief, but also by parents who found the brush was perfect for the those usually stressful tear-filled mornings trying to brush their little one's hair.  From this expansion in their target audience, the girls are now designing a Baby Belle hair brush for kids to use and which will also be totally handy for popping in your hand bag for on the go style! So, keep an eye out for its future release!
Our most requested style here in the salon for our extension lovers are the Belle Curls.  We create these using the Remington Shine Therapy Straightener I mentioned above.  Now to some, creating curls with a straightener may seem daunting (because to me it really did seem impossible!), but practice makes perfect! Curling your hair in this way gives you a full and bouncy look.  Make sure your hair is completely dry and knot free, section your hair, starting from the bottom taking 1-2-inch sections (you will know yourself how big to take depending on how big or small you would like your curls) and clamp the hair with the straightener starting a little from the root. Turn the straightener back on itself in a half turn and slowly run down the hair shaft.  The slower you move the iron the tighter the curl, the faster you move the more of a wave it will become. Curl all your hair in the same direction to give a more polished look.  After each curl twist it with your finger into a ringlet curl.  Once all your hair has been curled, brush out the curls using a Belle Brush to give that full curly bouncy blow-dry look!
Another one of our favourite styles in the salon is the beachy wave look.  Using the above method, instead of brushing out the curls at the end, run your fingers through the curls separating them into waves rather than ringlets.
A top tip when wearing your hair extensions in a straight style is when you are using your straighteners to smooth it down and you reach the ends of your own hair, flick the straightener inwards to give the hair a fuller look.
Some people have the perception that if you have hair extensions in you will not be able to have your hair in an upstyle for special occasions such as weddings, debs and the races.   This couldn't be further from the case as we get hundreds of brides through the salon doors looking for extensions to add more volume and length to their bridal do's.  For an upstyle, hair extensions can be a benefit as they will give you extra hair for your stylist to play around with when creating your desired look.  Experienced stylists will be able create upstyles without any beads showing.  Our senior stylist Laura created the Belle Ponytail which gives you the look of having your hair up the front but still giving you the comfort of having your down at the back.  It is a very glamorous look and is suitable for special occasion headpieces as well.
For more hair extension styling tips follow us on Facebook and Instagram!