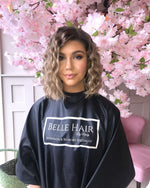 Microbead Hair Extensions Reapplication
Reapplication
The beauty of the method of microbead hair extensions are that they are re-usable. This means the more time and aftercare you put into maintaining your extensions, the longer you get out of them and the more bang for buck you are getting!
What is it?
Basically what re-application involves is removing all the extensions, combing out build up or dead hair that has accumulated and then re-applying the same extensions (once they are in the correct condition). This is a lengthy appointment so make sure to factor in enough time for this.
What is involved in removals?
Once you commit to getting Belle Hair extensions, you must factor in getting them removed by a professional as if someone unqualified removes them this can cause damage to the natural hair.
Removals involve using a specialised hair extensions pliers to open the bead and take out the extensions. The build up is then combed out (see below).
After removals it is natural to feel like your hair has become very thin, but remember you have had extra thickness up to 125gms applied for a long period of time.
What is build up?
Naturally every day we loose up to 100-120 strands of hair, as there is a bead there this will cause the hair to become caught and results in build up over time. If the build up feels sticky this is a result of the products used, if the correct products are used the build up will be kept to a minimum.
Does a re-application involve a wash and blow-dry?
A standard re-application does not involve one, but when booking in your appointment we will be more then happy to add this service. The hair will be washed and blow-dried after the removal of the extensions and the build up. Something to note is that some hair types will naturally shed more then others and a wash and blow-dry during the reapplication will be necessary.
Can I get my colour and re-application done in the one day?
Of course! Many of our clients use this opportunity to get everything done in the same day out of convenience. Bare in mind though you will be with us for most of the day as to do both could be up to a 6 – 7 hour appointment depending on how many extensions you have in. After removals, the colour will be applied, after the colour the extensions will then be re-applied.
My hair feels shorter after my reapplication – why?
During the time period of wearing your hair extensions, the section of hair which the extension is applied to will begin to grow down since it was initially applied during your first appointment. When getting your extensions reapplied the extension will then be pushed up and applied near the root again. This will of course feel like the extensions have become shorter. With every reapplication appointment we advise a trim to the extensions, which will give them them a fuller fresher look.
What can cause the tips of my extensions to break down?
Unfortunately the tips of your extensions can break down due to a number of reasons making a re-application not possible. Once the tips start to break down the hair will begin to shed from the strand. This can happen from lime scale in your water or chlorine. (See our blog on Environmental Effects on your Hair Extensions which explains this in detail)
What are the key products to maintaining your hair extensions?
– Salon Quality Shampoo and Conditioner
We can't stress enough how important this is to get the longevity out of the extensions and keeping them and your own hair in the best condition you can provide. Sulphate free is the best option if you can get your hands on this! Unfortunately supermarket products contain a lot of salt which can cause the extension tips to break down and the hair itself become dry and coarse.
– Dry Hair Oil or Smooth and Shine Serums
If you want hydrated, frizz free looking extensions use this daily through the mid lengths and ends of your own dry hair and especially on the extensions.
– The Belle Brush
We may be biased, but we truly believe this is the best brush on the market for hair extensions, as it glides through the hair without tugging the beads compared to the traditional paddle brush.
Blow-drying your extensions vs. Letting them dry naturally
By blow-drying your extensions , especially at the bead, you are giving yourself the best chance for them to last you a long time. Blow-drying them keeps them untangled , smooth, easier to manage, and prevents the beads from slipping down.
But look we are not oblivious to the real world and letting your extensions dry naturally once in a while is not the end of the world, but just to be aware if this is a regular occurrence this will not give the extensions the best opportunity of being re-used again due to them becoming dry and knotty.
One last key note is that our hair extensions are real human hair which is a consumable product which means over time they will have to be replaced at some stage.
We hope that this answers all your reapplication questions, if you have any more please feel free to give us a ring on our salon phone!