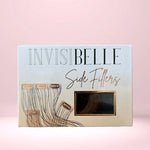 The ultimate face framing clip in hair extensions
Our side filler clip in extensions were designed to allow you to instantly fill out your hair in minutes!
Our hair at the front and sides are usually the most troublesome areas due to several reasons.  To target these finer areas, simply apply the side filler clip in extensions and cut to the length of your own natural hair.
 Thicker, fuller hair in an instant!
Features
Discreet and virtually undetectable in the hair
Light weight so no pulling or discomfort.
Durable
Heat styling
Can be used with semi-permanent extensions.
Perfect addition for upstyles to achieve extra volume.
Contents: two three-clip wefts of hair and two two-clip wefts of hair. ​
Lengths Available: 18''​
Weight: 40g​
Our InvisiBelle range of Clip in Hair Extensions are Human Hair, so can be washed, dried, cut and heat styled to your desired look.  They can toned or darkened but cannot be lightened.