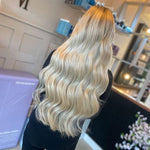 How to prepare for your hair appointment to get the best results
Colour
There has been a myth floating around the internet for years that says dirty hair will grab to colour better, however, to achieve the best colour results come into the salon with clean hair. When the hair is clean it allows the colour to fully penetrate through the hair fibre, whereas if there is oil present this adds an extra layer the colour will have to break through.
We recommend using a cleansing shampoo a few times before your appointment as this will help to provide a clean base with as little colour or product build up as possible  on it.  This is especially important when you use purple shampoo or have a lot of limescale present in your water.
Hair Extensions
Hair extensions need to be applied to clean hair, so if you haven't booked in for a wash and blow-dry before your appointment, make sure your hair is fresh.  This allows the application of the extensions to hold better and for your stylist to see your hair colour in its truest form.
As mentioned above if you use purple shampoo or have limescale in your water make sure to use a cleansing shampoo to provide a better colour match for your extensions.
If you are not getting your colour done before your extension's appointment, make sure you are completely happy with it as this is what we will be matching it up to on the day of your appointment.
If you want to achieve length with the extensions DO NOT cut your hair beforehand, as if the hair has been cut across in a blunt style it can be very hard to blend the extensions out, you will need extra time for your appointment and it will mean a lot more styling at home to mask the harsh line between the extensions and your own hair.