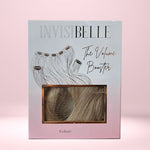 Clip-in extensions for short hair?
Clip In Extensions for Short Hairstyles?

There is a myth that those of us with short hair can't wear clip in extensions, but we are here to prove that wrong! They can be used to create extra volume without adding length and especially to fill out the front parts of our hair that is naturally finer or are more liable to heat damage
What are the options?

Side Fillers Clip in Extensions will fill out your hair at the front where it is usually finest.


Volume Booster Clip in Extensions give an overall fuller look to the hair





Are they easy to apply? YES!

Before you apply your clip in extensions make sure to have them perfectly colour matched to your own hair as this will always give the most seamless blend!

Apply them by simply sectioning your own hair, gently backcombing the hair at the root for extra hold and then clip in the extensions where needed.


Top Tip: they can be also used in up styles to add a thicker look to the hair