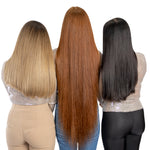 How to Layer Products the Correct Way
We all know which order we should apply for our skincare, but do we know the same for our haircare?
Using the correct products in the correct order achieves the best results and benefits for your specific hair type. While every hair type is unique, there are some general rules to follow.
Step One: Shampoo and Conditioner
It is so important to make sure you are using the correct shampoo and conditioner for your hair type.  If your hair is dry and brittle, use a hydrating range, if your hair is over processed or colour damaged use a repairing range.  Always keep your hair condition and goals in mind when choosing this, as it will also help with the styling process.
Step Two: Detangling Spray, Leave in Conditioner, Heat Protectant
Always towel dry your hair before applying these products, as if it is too wet, they will slide right off the hair.
A detangling spray or leave in conditioner is important for all hair types to prevent breakage and boost hair nourishment.
If you blow-dry your hair, you must use a heat protectant every time, In the same way that you wouldn't sit in the sun without SPF, you should never use heated tools without first applying this first.
Step Three: Mousse, Cream, and Gel
You need to decide what your desired result is, as these products will determine this.  Just like your makeup, when you want to achieve a dewy or matte look, this applies to hair too.  Do you want to add volume and body with Mousse? Or achieve a sleek look with a cream-based styling product?
Step Four: Oils and Serums
Once your hair is now dry, you can go in with your final layer of nourishment. The right oil or serum for your hair type should not weigh it down but give it a silky smooth and shiny finish to the hair, locking in moisture and preventing frizz.
Step Five: Styling Sprays
The final step is to hold the style you have created, whether that is with a texture spray to add movement, a hairspray to fix in place or a shine spray to add a gloss finish.